How to use a mezzanine door pallet gate to protect a "door to nowhere" situation on upper or mezzanine level while still allowing material to be passed through the opening.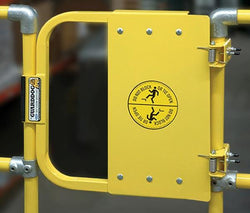 In 2014, there were 4,679 worker deaths. That's 13 people dying every day – mainly from falls. The unfortunate truth is these kinds of deaths are alarmingly common. The good news is they are also largely preventable with proper safety equipment. Previously, we covered many of the most common situations when fatal falls may occur, and in this article, we'll discuss one of the best tools for preventing falls: safety gates.
It is important to remember that this is just a starting point to cover basic information. For more details about the rules and regulations surrounding proper safety gate usage, please refer to the official OSHA website.